Reprinted here with permission from New England Baseball Journal.
By John McGuirkNovember 29, 2021
Winchendon has three D1 commits in the Class of 2022 — from left, Robbie O'Connor, Noah Hajdu and Sam Clark. (Courtesy photo)
John Toffey's relatively short tenure as head baseball coach at Winchendon School has been marked by an increase in player commitments to college baseball programs.
Toffey enjoyed successful head coaching stints at Salisbury School and Cheshire Academy prior to landing at the Winchendon's Central Mass. campus. In 2019, the program took home the New England Small School championship. Last year, Winchendon again reached the title game before it was cancelled due to Covid protocols.
Yet, what often gets overlooked through all of this program's recent track record of success is the number of players who have gone on to experience rewarding college careers. With each passing year, those numbers continue to rise. Nine players from this year's squad have already committed to play at the Division 1 and Division 3 levels next season.
New England Baseball Journal sat down with three of those team members to talk about their baseball backgrounds, their reasons for attending Winchendon, along with their future endeavors. Post graduates Robbie O'Connor, Sam Clark and senior Noah Hajdu shared their thoughts over the importance of attaining a quality education and the opportunity to play Division 1 college baseball.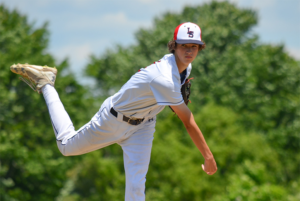 Having graduated from Lincoln-Sudbury last spring, O'Connor had already made his decision to do a prep year in an effort to enhance his academic and baseball skill set, which is why he chose Winchendon. O'Connor was a highly-touted right-handed pitcher during his time at L-S. Standing 6-foot-4 and 160 pounds, O'Connor, whose fastball is clocked between 89-90 mph, put forth a solid career as a member of the Warriors and with his summer club, the NEB Rays.
His pitching talents sparked interest from a few Division 1 programs, including Northeastern, UMass-Amherst, Fairfield, UConn, Georgetown and Wake Forest. When all was said and done, O'Connor believed Wake Forest was a true fit in terms of his continued development as a pitcher and student.
"Wake Forest to me is the best place I could go to in order to get better over the next four years," said O'Connor, who resides in Sudbury. "It is a great academic school and has a great baseball program. It is kind of like the whole package there, and it also felt like family when I visited."
Preparing to suit up for his only season at Winchendon next spring, expectations are high in regards to O'Connor being part of a front-line pitching corps.
"Robbie was one of the top pitchers in the state at Lincoln-Sudbury," Toffey said. "We were very excited to learn that he was interested in Winchendon as a PG. He is a classic case of a late bloomer and is someone who just keeps getting better and better. That is something we talk a lot about to all of our kids here. It's not necessarily about peaking when you are 15, 16 or 17 years old. The thing is that you want to keep improving and keep getting better. When you put yourself in an environment that allows you to do that with other like-minded kids who are going through our strength and conditioning program, it becomes pivotal."
O'Connor's decision to do a PG year came to fruition during his sophomore year, primarily for recruiting purposes. He was also young for his age, with a July birthday, so by acquiring that extra year of high school, he felt, would be vital in his efforts to get bigger, stronger and gain more maturity. The Winchendon experience has exceeded his expectations.
"It really has been an awesome experience here," O'Connor said. "I just feel it is easy to get better here and improve your skills in the classroom. I think the biggest thing for me was getting used to living away from home. I have been living at home for 18 years, and I am getting ready to go down to North Carolina next year, so coming here is a good transition in preparation for college."
Clark, a Maine native, had already secured his college decision prior to him arriving at Winchendon, opting to commit to UConn. At the time, he was also considering Boston College, Rutgers, Virginia Tech, Maine and Rhode Island. A right-handed pitcher currently throwing in the low-90s, Clark is a graduate of Chevrus High School in Portland, Maine. Standing 6-foot-2 and 170 pounds, the Scarborough, Maine, native decided during his senior year to do a PG year.
"I wanted to get out of Maine and give myself more of a college-like experience by living away from home," said Clark. "I had heard a lot of good things about Winchendon. When I came here for a tour, I loved it. Having a strict schedule and living in a dorm is preparing me well once I get to UConn. There is a set routine here because you already know your schedule and you know what you are going to do after school with gym times being available to workout."
A member of the Maine Lightning during the summer months, Clark's reasons in choosing UConn were based on the success of the program and the many conveniences it provides for its players.
"Opportunity-wise, I want to go to Omaha and play in a College World Series and I also hope to play at the next level after that," Clark said. "I feel the UConn coaching staff will set me up with the most opportunities."
Toffey says Clark is someone who had already had his priorities set before coming to Winchendon.
"Sam came in with us already knowing of his commitment to UConn," Toffey said. "Sam is using this upcoming year to really be as ready as he can for UConn. Moving on to play college sports, you want to be prepared and hit the ground running in trying to be an impactful freshman for that particular program. I think having that one extra year can really open up some huge opportunities."
Hajdu came to Winchendon, transferring over from St. John's of Shrewsbury (Mass.). The 5-foot-9, 170-pound Sterling, Mass., product chose to reclassify as a junior with the understanding that an extra year at the prep school level would open doors.
"I think the opportunity to reclassify has given me more opportunities at the college level," Hajdu said. "Coming to a school where you won't get lost in the classroom was equally important. Because of the smaller class sizes here, I am able to focus a lot more. I was a day student last year and now I board here. I feel there is also more of a routine here at Winchendon. By coming here, it has helped me become that student I want to be and has prepared me for college."
Hajdu recently accepted an offer to attend and play for Lafayette College. He also received interest from the likes of Siena, Fairleigh Dickinson, Washington College and Colby, among others.
"As soon as I was a freshman, I knew that I wanted to play college baseball at the Division 1 level or go to an academic school that would fit my needs," Hajdu said. "I set that goal by working hard, but honestly, I never saw myself coming to Winchendon and repeating my junior year like I did. However, I am very glad I did."
Playing for the NEB Americans during the summer, Hajdu, whose exit velocity off the bat has reached 97 mph, is primarily a centerfielder with above average speed in the field and on the base paths.
"It was pretty evident early on that Noah was a hard-working individual and was strong academically," said Toffey. "I think he set a really good example for us last year with the other players on the team, especially during an abbreviated season due to pandemic protocols. It was a year where we needed some sort of leadership within our team, and Noah was able provide that. His speed is a huge asset in centerfield because he is able to track down everything and also gets good reads on the ball."
Besides O'Connor, Clark and Hajdu, Winchendon had several other team members commit to various schools. They include Joey Gizmont (Dartmouth), Zach Scott (Dayton), Nick Colletti (Babson), Kyle Palardy (Keene State), Alex Marmot (West Virginia) and Dylan Firmin (Southern Maine).
"These kids are very focused and goal-orientated," said Toffey. "There is a lot of interest in our baseball program and I am very happy with the kids we currently have in terms of how well they do, how hard they work and how we try to create an environment to improve and ultimately reach their full potential. Our goal as a coaching staff is to prepare all of them well for college."